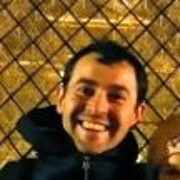 ---
BIO
Davide Dardanello received his B.Sc. degree in Physical Education from the Superior Institute of Physical Education of Turin (Italy) and his B.Sc. degree in Physical Therapy from the University of Eastern Piedmont Amedeo Avogadro (Italy) in 2001 and 2004 respectively. In 2009, he obtained a Master in Rehabilitation of Musculoskeletal Disorders at the University of Genoa, Italy. In 2012, he received his M.Sc. degree at the School of Exercise & Sport Sciences of the University of Turin. He is currently a PhD student in Medical Pathophysiology in Life and Health Sciences at the University of Turin, department of Medical Sciences. His research interests are mainly focused on the use of surface electromyography for the evaluation of the neuromuscular disorders in physical therapy.
---
PUBLICATIONS
INTERNATIONAL
Boccia G, Dardanello D, Rosso V, Pizzigalli L, Rainoldi A. The Application of sEMG in Aging: A Mini Review. Gerontology. 2015;61(5):477-84. doi: 10.1159/000368655. Epub 2014 Dec 6.
Boccia G, Dardanello D, Coratella G, Rinaldo N, Schena F, Rainoldi A. Differences in age-related fiber atrophy between vastii muscles of active subjects: a multichannel surface EMG study. Physiol Meas. 2015 Jul;36(7):1591-600. doi: 10.1088/0967-3334/36/7/1591. Epub 2015 Jun 9.
Boccia G, Dardanello D, Rinaldo N, Coratella G, Schena F, Rainoldi A. Electromyographic manifestations of fatigue correlate with pulmonary function, six minute walk test, and time to exhaustion in COPD patients. Respir Care. 2015 Sep;60(9):1295-302. doi: 10.4187/respcare.04138. Epub 2015 Aug 18.
Boccia G, Dardanello D, Beretta-Piccoli M, Cescon C, Coratella G, Rinaldo N, Barbero M, Lanza M, Schena F, Rainoldi A. Conduction velocity and fractal dimension time courses during fatiguing contraction of young and elderly active men. Physiol Meas. 2015 Dec 18;37(1):162-174. [Epub ahead of print]
Boccia G, Coratella G, Dardanello D, Rinaldo N, Lanza M, Schena F, Rainoldi A. Severe COPD alters muscle fiber conduction velocity during knee extensors fatiguing contraction. Journal COPD. 2016 - Accepted - In press
---
LINKS
Collaborations
School of Sport and Exercise Sciences, Department of Neurological and Movement Sciences, University of Verona, Via Casorati 43, 37137 Verona, Italy http://www.dsnm.univr.it
CeRiSM Research Center 'Sport, Mountain, and Health', Rovereto (TN), Italy http://www.cerism.it
Rehabilitation Research Laboratory, Department of Business Economics, Health and Social Sciences, University of Applied Sciences and Arts of Southern Switzerland (SUPSI), Manno, Switzerland http://www.supsi.ch/home
OT Bioelettronica, Torino, Italy http://www.otbioelettronica.it
Projects
HExEC (Hand Exoskeleton Emg Controlled) project (2012-2014) http://mesapiemonte.it/hexec.html
Run for Science http://www.univrmagazine.it/sito/vedi_articolo.php?id=2356
Marcialonga Science http://www.marcialonga.it/DS/51031/marcialonga-science.php